Access to information pertaining to these two general Atmosphere Product paradigms (MODIS Standard vs. Continuity) can be found through the pull-down menus of the first six main topic links (to the right of the Home link) along the top of each page.  The main topic links that have the MODIS Standard vs. Continuity split are Products, Images, Data Versions, Data Issues, Documentation, and FAQs.  The final three main topic links, Tools, Staff, & Links, contain shared content. Note that content for the "Continuity" portion of this website is being developed and expanded.
Ordering Atmosphere Discipline Team Imager Data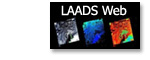 Atmosphere Imager Data is distributed free of charge through the Level 1 and Atmosphere Archive and Distribution System (LAADS). By utilizing the Search & Order Tool on the LAADS web site, one can search and subset data by collection, date & time, geographic area, science products, and selected metadata.  In addition, a web-based directory site is available for direct file download. After you load the HTTPS page -- click on directory "61" for MODIS Standard Collection 6.1 (061) data.

For all questions and/or problems related to ordering Atmosphere Data from LAADS, email MODAPS User Support at MODAPSUSO@lists.nasa.gov or call 1-800-596-8132 (toll-free US). For answers to additional Frequently Asked Questions (FAQs), visit the FAQ section of this website.