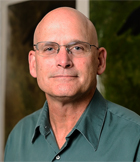 Role:
Atmosphere Discipline Team Lead - Continuity Products
Biography:
Steven A. Ackerman
Professor Atmos and Ocean Sciences
Director, CIMSS
University of Wisconsin-Madison 
Academic Education
·  1985-1987 Colorado State University; Ph.D. - Atmospheric Science;
·  1976-1979 Colorado State University; M.S. - Atmospheric Science
·  1972-1976 State University of New York - Oneonta
Awards
2017: New Library World 2017 Highly Commend Award for 2016 publication
May 2014: Colorado State University Alumni Award
Jan 2014: Elected Fellow of the American Meteorological Society
May 2011: Elected Fellow of the Wisconsin Academy of Science, Arts and Letters
Nov 2010: Finalist in NSF International Science and Engineering Visualization Challenge
May 2010: NASA Exceptional Public Service Medal
June 2009: State University of New York at Oneonta: Distinguished Alumnus Award
Jan 2009: American Meteorological Society's Teaching Excellence Award
Summer 2004: UW-Madison Vilas Research Associate
Spring 2003: Winner of the Society of Academic Author's Talby prize to "recognize excellence in visuals in textbooks and other learning materials."
Summer 2003: NASA Group Achievement Award for Outstanding Teamwork on the Earth Observing System (EOS), Aqua Mission Team
April 1999: Chancellor's Award for Distinguished Teaching
Dec 1996: NASA Group Achievement Award: FIRE II Science and Operations Team
April 1996: Recipient of a Lilly Teaching Fellowship
April 1995: Inducted as a Fellow in the University of Wisconsin-Madison Teaching Academy
September 1992: NASA ERBE Program Award "For outstanding contributions to the intercomparison and validation of ERBE scanner and non-scanner results."
Research
Globally, the earth-atmosphere system is balanced by the radiative energy gained from the sun and lost through infrared emission. The geographic distribution of radiative energy is an important climate variable. A change in one climate variable inevitably results in a change in another variable. Thus, a shift in the radiation balance at the surface of the earth, top of the atmosphere or within the atmosphere can result in a sequence of complicated changes in global climate. My interests center on understanding how changes in the radiation balance affect and are affected by changes in other climate variables such as clouds, aerosols, water vapor and surface properties. These feedback mechanisms are studied using a compliment of theoretical models and observations.